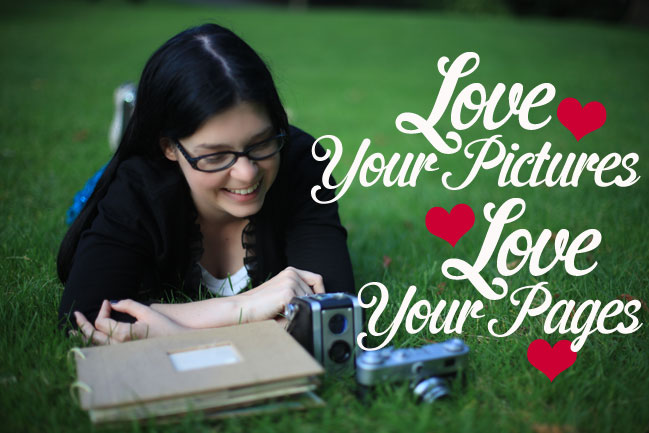 Ready for a summer scrapbooking adventure? I hope you'll join me for a new online scrapbooking class here at shimelle.com!
Love your Pictures, Love your Pages is a four-week, high-energy journey through July. Each week we'll be taking pictures and scrapbooking and putting it all together to make something you love.
Starting on Monday, the 5th of July 2010, full-colour PDF prompts come straight to your inbox. There are six prompts each week: the first three focus on photography and the last three focus on scrapbooking — but of course the two go hand in hand!
This is not a technical photography class. There are plenty of amazing classes already out there with people far more qualified to take you through the technical parts of your camera. Instead, we'll be focusing on options for creative photographs — the kind of pictures that really inspire you to get scrapping. You don't need a super-fancy camera to take part. The class prompts will show sample images from point-and-shoot cameras, dSLR cameras, toy cameras and mobile phone cameras. No matter what you're using, you'll find something just right!
As we start to scrapbook those photos, you can craft with paper or pixels! If you're new to my classes, it's worth knowing that there's never a set of 'do it exactly like this' instructions. The class materials encourage you to use the supplies you have on hand and adapt any of the ideas to suit your own style. Of course, if you want to recreate things exactly as you see them, you're welcome to do that too! Classmates share their work, creating even more inspiration to kickstart your creativity — it's one of my very favourite things about hosting classes here.
The scrapbooking prompts give you the option of creating stand-alone layouts to go into your existing albums or you can create an album dedicated just to photos you take this summer. Most of the sample pages are 12×12 and can be adapted easily if you would like to work in a mini-book size for this project.
Here's a look at exactly what's included in Love your Pictures, Love your Pages:
…24 full-colour PDF prompts delivered straight to your inbox, Monday through Saturday.
…3 resource workbooks: A Month of Sketches with a full complement of detailed page sketches for your scrapping, Camera Basics with an overview of technical basics on a variety of cameras and Photoshop Magic with step-by-step instructions for some of my favourite photo-editing techniques. (Photoshop definitely isn't required for this class — but this workbook can be useful if you do have it or you install a free trial download.)
…Exclusive designs in printable format for paper scrappers and image formats for digital scrappers
…Members-only access to chat and share your work with other participants, including a special section dedicated to helping you with specific shots you would like to kick up a notch
…Permanent archive of all class materials so you can participate whenever fits your schedule and know everything is always available for you in just a few clicks
…-Special members only discounts to some of my favourite places, including Digital Photography School and Totally Rad Actions.- (Unfortunately these discounts have now expired.)
In total, the class comes in at just under 200 pages of material, even before we start talking on the message boards! You can sign up any time in your choice of currencies: £16 GB Pounds or $24 US dollars. Just click the image to join us:
Class starts on the 5th of July and the message board will open a few days before that — you'll receive an email with all the details on how to sign in once the board opens!
Do keep in mind that the email address you use when you pay is the only way I can get in touch with you, so do make sure it's a valid email that you can read. If you would like your prompts sent a different email than the one you use to pay, leave a note on your payment (or send me an email if you forget – shimelle at gmail dot com).
Any questions, just ask! And watch for a few sneak peeks of both the photo and scrappy sides of the project as the starting day draws near!
I'd love to see you in class!
xlovesx

Read more about: photography
18 June 2010

Next post: Class starts tomorrow :: Join us!
Previous post: Thank you.