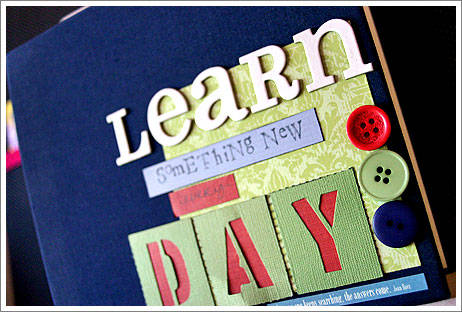 Ready to go back to school?
Ok, really I wouldn't mind a bit more summer…but time keeps on going, so we make the best of it. One of the highlights of September has to be that back to school feeling. Even if you've been out of school for years, you can buy yourself a new notebook and feel like life is a little bit new.
Learn Something New Every Day is the first class for our autumn term. Over the month of September, we'll make thirty entries in this small-format book designed to getting your eyes open to observing your world.
Worried about time? Fair enough. It does take time to make an entry every day. But the pages are small (6 inches square) and we'll use some short cuts to keep your supplies to a nice small collection and we'll focus on summary journalling rather than documenting each day with a full report. And every day you have the option of just duplicating the example page, so that could even eliminate your thinking time. We're talking minutes every day here.
In this class, you get:
*An introductory shout-out to get you going
*30 daily prompts with full colour samples
*The chance to chat and share your work with other artists
*Posting access on the group blog
Class begins September 1. Don't be late!
I'm sorry, this class is now sold out. Please e-mail me if you would like to prebook a place on this class for a future month.
Any questions? Just stick 'em in the comments & I'll get an answer to you asap.
Feels great to have something enjoyable for back to school!
xlovesx

Read more about:
21 August 2006

Next post: Rose-coloured times