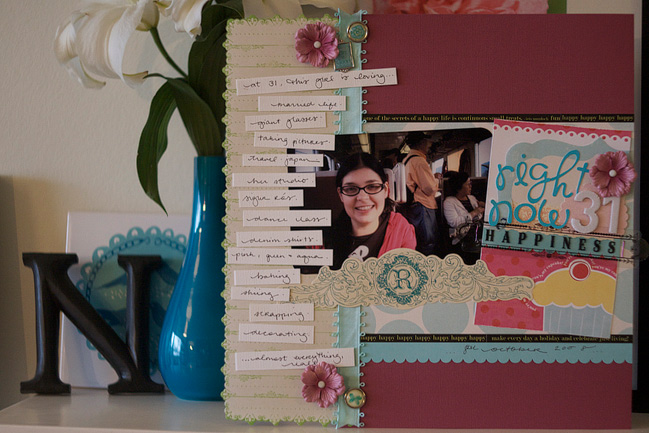 Back in January 2007, I found myself with the overwhelming desire to do something to say 'thank you' for all the fabulous things that had come my way from this crazy scrapbooking thing. Going places, meeting people, and later that year actually stepping away from a job that was partly amazing, partly immensely frustrating and taking a chance at taking this crazy scrapbooking thing full-time.
Now all I wonder is how I ever did this part time. I love doing this and all I want is more hours in the day to do more of it. I learned some very hard lessons in 2008, but by the end all I could think was that same feeling: I feel like I am so lucky. And since I'm never going to win an Oscar, I have to settle for my little spot in blogland to say my big thank you.
And I'm doing that with a free mini-class. It's open to everybody, whether you read my blog all the time or you're brand new, whether you've taken a class or you've never heard of me, I don't mind. You don't have to do any formal signing up, you don't have to join anything, you don't have to give me your name, address or first-born child. The class materials will be right here on the blog for you to download with a click. Easy enough? Shall we get on with what this class is actually about?
For the last seven years, I have made a layout called 'Right Now' during the week of my birthday. This year's layout is above and you can see more about that here. The Creating Garden is filled with ideas for scrapping yourself this month and I was excited to share my little 'Right Now' tradition. But the current time of year also got me thinking…we do a lot of plotting out plans, hopes and resolutions in January, but not as much documenting of what just is. One of my favourite teachers from my youth used to start lessons with a brainstorming session and she encouraged us to 'piggy-back'—which meant to listen to the other ideas that classmates shouted out, think about them and build a unique twist that makes a new idea that can be contributed to the group. That's how these two projects are linked…an idea that has worked for seven years of layouts (so I'm obviously pretty happy that it's worth continuing) that has been rethought and reinvented into something a little more complex that I'd like to share with anyone who is interested. And you'll probably put your own unique spin on it too, and the cycle starts over. Are you in?
Here's our class schedule:
15.01.09: Download the supply checklist so you can get your stash and your photos ready to go.
16.01.09: Kick-off party with a prize giveaway
18.01.09: Download the journaling worksheet so you can make a start with your notes.
21.01.09: Download part one of the construction instructions.
23.01.09: Download part two of the construction instructions.
25.01.09: Download the finishing notes.
All you have to do to download the prompts is click—the supply checklist is already there for you to download now so you can go ahead and start getting organised. ETA: Not sure why the links in the file decided to break half way through last night! Nevertheless, I've updated the file with fixed links now, so you can download it again if your links weren't working. Sorry about that!
Thanks for so much in 2008. Now I hope you'll join me for a fast start to a happy, scrappy 2009.
Who's with me?
xlovesx
PS: Be sure to stop by tomorrow so you don't miss out on prizes!

Read more about:
15 January 2009

Next post: Class kick-off party time!
Previous post: Two days and counting!