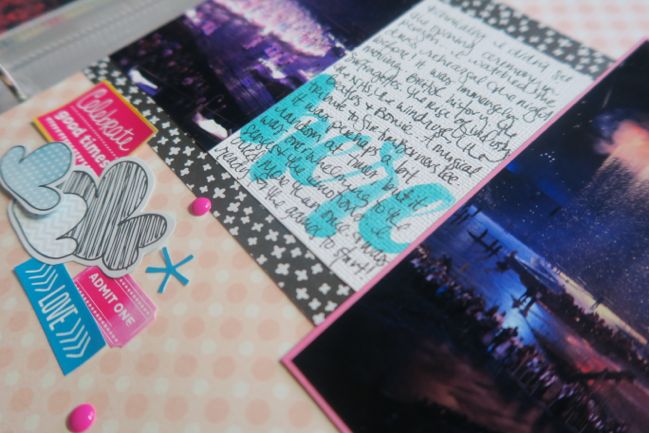 Good morning and thank you so much for your kind words about the new Glitter Girl collection. I am so excited to keep sharing it with you as I get started on all sorts of layouts, and then I am even more excited to see what you start making when it arrives in stores in a few weeks!
And it's time for all things new really: not just a new collection, but also a new class coming right up. And it's the biggest class I've ever put together in terms of content. There are so many process videos, so many 12×12 pages, so many things I want to share with you. But that's not for today. Registration for that class will start one week from today… so today seems more like an excellent time for a sale! Starting today and available for one week only, all my online classes here at shimelle.com are discounted, most by at least five dollars.
If you've already taken classes here, this is a great time to add any missing classes to your portfolio and have access to everything you might want. I do not offer discounts often, so don't be worried that there will be an even better discount later – this is as low as things ever go, as I always aim to keep my classes very reasonable for the amount of content you receive.
If you've never taken a class here, this is the best time ever to pick something and give it a try! You'll receive permanent access to the class materials – there is no time limit and no set pace you have to follow. You'll log in to a classroom forum and have access to all the materials (PDF files and streaming videos) as well as all the conversations from the students who have taken the class. You can also email me about any part of any class any time that suits you and I'm happy to discuss it with you!
This page has a list and description of all the available classes, so use that to choose what you'd like to take, but this week, do NOT use that page to add classes to your shopping cart. Instead, to get the sale prices, you need to come to this post and click these links to pay the discounted prices! Class access will be sent to you by email within 24 hours of the completed payment. (Any problems, just email me and I will help!)
UPDATE: sale has now finished. Thanks so much for your amazing support.
If you are shopping on your phone, turn it sideways now to access the shopping cart buttons, please.