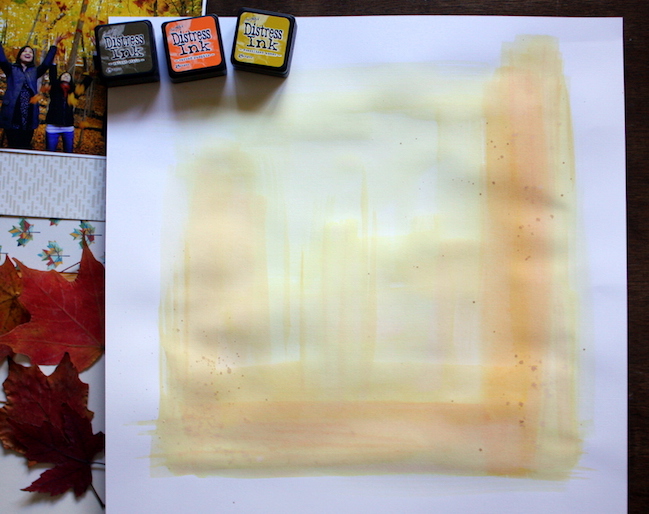 Next up, please welcome guest artist Karen Lai with our third challenge. This one is all about the colours of autumn!
I love the colours of autumn. I love to go on a hike to see the beautiful leaves and actually bring some of the leaves home.
I wanted to scrapbook this photo of a hike that we went off trail and found an area full of beautiful golden-leaved trees and red leaves on the ground. We dove right in – playing and throwing the leaves up in the air as though we were kids. It was so much fun!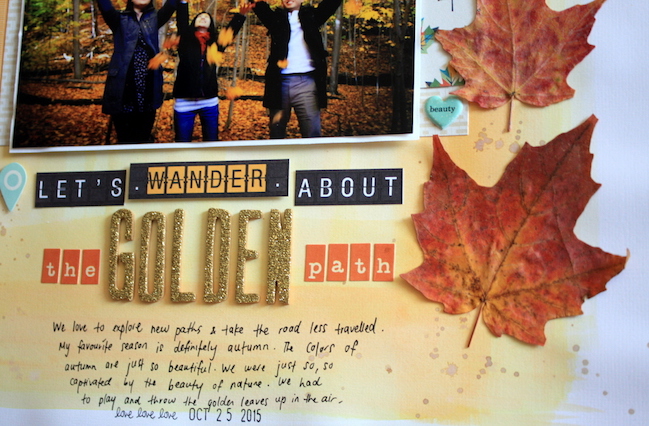 For my layout, I started by painting the background with autumn colours with Distress Inks. I love using them like watercolours. Then I chose papers and embellishments from Shimelle Go Now Go collection because it matches perfectly to my autumn hiking adventure theme. I added the leaves I collected during the hike in my layout as well because the colours were just so pretty. Then I created the title by cutting parts of the patterned paper and added different alphabet stickers from October Afternoon and American Crafts.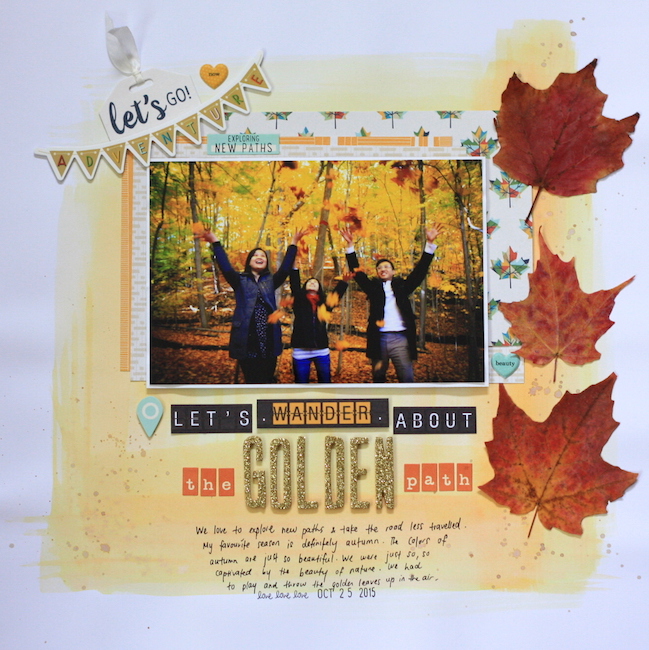 Now it's your turn – I challenge you to scrapbook with a colour scheme inspired by autumn!
A note about this weekend's challenges: I'm leaving all the challenges open until the end of the following weekend to allow more time to participate, but the special discount on the new class will be sent to those who upload a new project just this weekend – by the end of Sunday, 30th of October, 2016. This is for new layouts created this weekend, not archived layouts made previously. One discount applicable per person. You can upload your page to another site (blog, Instagram, Facebook, scrapbooking gallery, etc) and use the InLinkz button above to link to that OR you can upload a photo of your page directly with the same button rather than linking elsewhere. Either is fine! If you have trouble figuring out what to click, give a shout in the comments and I'll email you with help. Thanks!
Today's Guest Artist: Karen Lai loves coffee, watching tv dramas and hiking. You can find more from Karen on Twitter, Pinterest, and her blog.

Read more about: scrapbooking-challenges inspiration-party
29 October 2016

Next post: Challenge 04:: Layers of Colour
Previous post: Challenge 02 :: Patterned Paper Fringe (and a free pumpkin cut file)