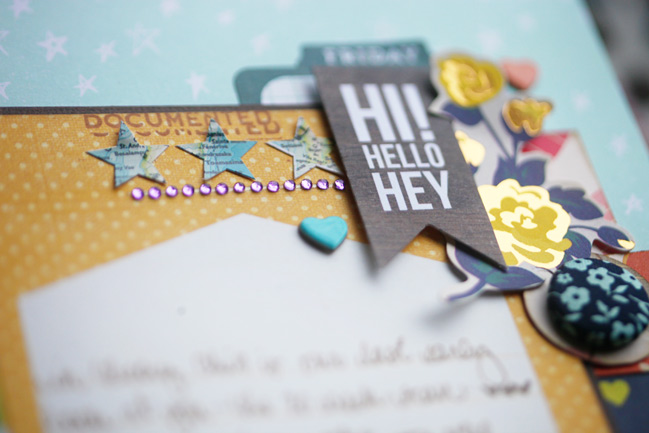 On the first of the year, I tend to get a bit philosophical and extra wordy. Forgive me. There is some important stuff I want to tell you, and my most honest self is just not concise. Thanks for your patience.
In 2013, I shared fifty Glitter Girl videos, thirty-five Sketch to Scrapbook Page videos, and put together a monthly list of product picks – which I was quicker to use and share some months more than others. For those interested in premium content, I also debuted a brand new self-paced workshop, Glitter Girl's Scrapbooking Survival Guide, and a companion video workshop, Glitter Girl's Guide to Stretching your Stash, both available at Two Peas in a Bucket. Here at shimelle.com, I ran a reprise of two popular layout design classes, Pretty Paper Party and Scrapbook Remix, and two annual favourites, Learn Something New Every Day and Journal your Christmas. I flew to California for CHA in the winter and travelled to Germany and Italy to teach in person. The funny thing is that all that fits into my designated year of quiet.
Over the past year, there have been many guests sharing their work here. I know some of you are not huge fans of that, and that's okay. 2013 needed to be my year of quiet. 2012 was a big year here. A lot of excitement. A lot of growth. And the truth is it was not a level of growth that could be maintained by one scrapbooker. It couldn't even be maintained by one scrapbooker and her (albeit awesome) part-time assistant. I knew that a year ago. Well, more than a year ago. I knew 2013 would not be about growth for me. It would be about giving back, and it would be about welcoming a bit of quiet. If 2012 was a year-long Olympic-sized party, 2013 was my year in an ashram.
In last year's philosophical post, I talked about how I wanted to be able to recognise designers doing fabulous work in this craft and pay them for their contributions. I know that is really not a concern to anyone who is happy to craft for fun, for a hobby, and not worried about trying to make a living from their work. But having worked in this industry for many years, it was important to me. I do think there are too many occasions when talented crafters are given the opportunity to be 'honoured' to share their work and the compensation for all the hours they spend creating things is usually the supplies themselves. That doesn't keep the lights on, much as I would like to pay my electric bill in the remaining patterned papers from last season. Prior to that post, I had made a personal decision to not take work that paid in paper, because I felt if this was my full-time job, I needed to take things seriously, so I stepped away from the positions that took so many hours without pay, for there was no benefit coming from it – I couldn't be convinced that a layout on a blog, on a sales booth, or in a book was going to bring crowds of people here to my blog for the first time ever. A lovely compliment to my work to be asked, certainly, but the reward was stress of deadlines and late nights and ridiculous international Fed Ex bills. When I took that stance for myself, my contributing opportunities dropped dramatically. That was okay, but it meant I was really concerned that the commentary I saw in bits and pieces over the internet that the 'same designers appeared in so many places' or that surely there must be some up and coming unknown talent hiding somewhere was really part of this predicament: there are many talented scrapbookers out there, but there are few with lifestyles that allow for countless hours of work with no pay. I couldn't employ them all as a regular design gig, but I could make a step in the right direction. I could give back. And I am delighted that I was able to commission so many different scrapbookers to share their work here with you over the past year. That was my goal there and it didn't fizzle out. At the start of a new year, that makes me ridiculously happy.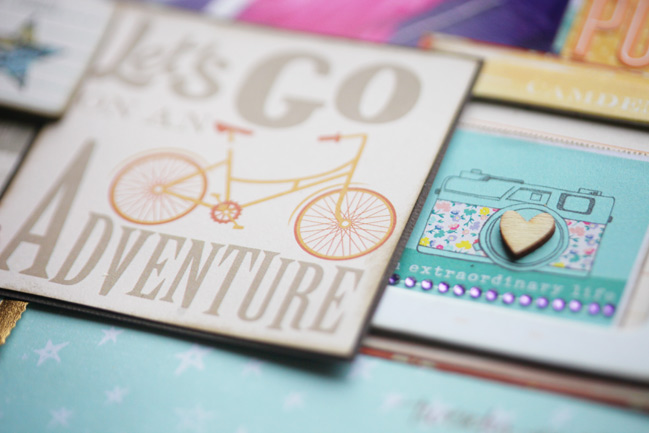 But I know many of you have wished there was more of 'me' on the blog. Sometimes I have too. At first, I made a big effort to try to match the contributed content with my own posts, and soon I knew I had fallen into a hole. Blogging is a very different writing process than writing a book or writing for one's self or even the way I write my content for classes (be that online or in my days of teaching teenagers). Blogging is so quick and instant – write it, publish it, move on. The revision process is often more like proofreading than redrafting. Readers know that blogging is quick, so readers make requests, and that is sensible and fair. 'I bought this product and I don't know how to use it' is a common request that comes my way lately and I started trying to reply to all sorts of things like that by writing about them on the blog. That sort of technical explanation of craft is easy and quick and that makes a blog a great place for it. Except I was forgetting why I write. I had lost the sort of in-depth I needed to retreat to the mental ashram (or as it's Sherlock Day, perhaps I should opt for 'mind palace') and rediscover my own voice.
Since the spring, I have been writing for myself. I have written reams and reams. When I started, it was all entirely rubbish. Be glad I didn't share it on the blog. If you think the long rambling posts I write on message boards are long and rambling (or indeed this post), you have no idea how horribly disconnected from reality that writing was. But I would return to it and look at it without the pressure of sharing it with the world. I could spot what wasn't working rather than just publishing it and moving on to the next topic. Day by day and week by week, I found what I was missing and I got back to a point where I could write things I felt worth sharing. I just didn't want to start putting it all out there until I was ready to step outside the ashram. I really wasn't ready to do that until about three weeks ago. I decided to wait until the new year just to be extra sure.
I have never stopped loving scrapbooking. It still makes me want to get out of bed in the morning (or more accurately, makes me want to stay up all night) and I honestly don't mind if someone doesn't like the visual style of my pages or disagrees with my feeling that a page without writing is incomplete or if someone wants to laugh at the sheer number of albums I have. All hail variety. It can be just as odd as that blogging writing process to be constantly sharing the scrapbook pages I make, and usually I am sharing absolutely every layout I make in some way or another. But just lately, I have been scrapbooking a little more that I've been keeping to myself too. It's a bit of a game changer.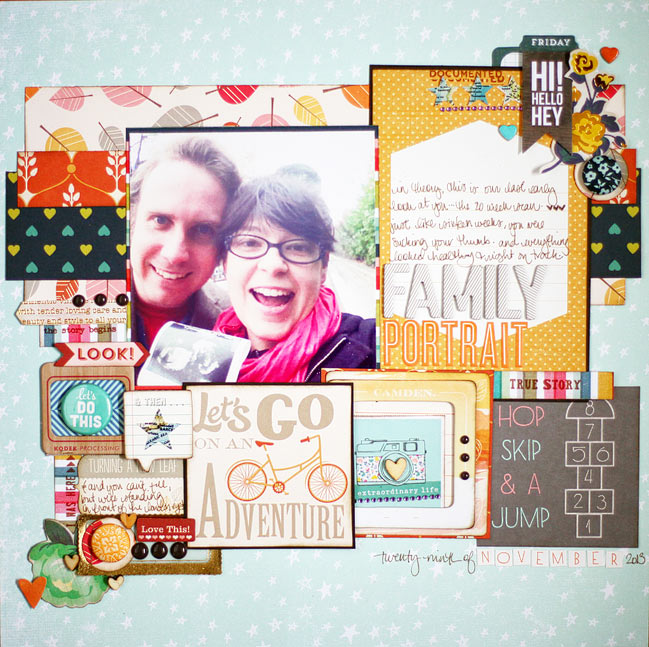 So… this? This is why I needed a year to welcome quiet. For every time someone would say something encouraging to me about how they admired how I would represent for the scrapbookers who chose to live a child-free life, I would smile on the outside and die a little on the inside. Choosing a child-free life and choosing to embrace a child-free life are two different things in my world. I respect both, but I have lived one a lot longer than the other. I lived it long enough that I kept waiting to say anything. I've kept this secret a pretty long time. And that little boy is scheduled to join our family this April. I expect that arrival means 2014 is not at all my year of quiet, and I'm perfectly perfectly happy with that.
I have no intentions to become some sort of parenting blogger. I am going to mess up at this parenting thing a lot and if for two seconds I start to say I know anything about parenting, please slap me in the face. (I may admit my year of quiet has included a lot of reading on the subject and even sitting in on a few lectures, but I have no intentions of declaring myself any sort of expert on that subject at all.) I still want to be a scrapbooking blogger. While I am of course excited to scrapbook this entire new adventure of life, I'm curious as to what my page balance will become. There was a time when there was just me on my pages, then when The Boy started appearing on my pages but quite a few of them were still about me. Maybe this will naturally become a next step with a third of each? We shall see. But my intention right now is still tell a mix of stories, and I have plenty of memories I still want to add to my albums, including quite a few represented in all those reams of writing I've scribbled in 2013. (By the way, I realise the name 'The Boy' has the potential to get extra confusing now. Give me till spring or so, and maybe I'll figure that all out.)
Shortly I shall be heading to California for CHA (in nine days! Oh my!) and that shall be an adventure all its own. It's also a good thing that I remembered how to write, as I've committed myself to a pretty major writing job that will result in something you can hold in your own hands at all good bookstores (well, all good bookstores that import paperbacks, if you're outside the UK) toward the end of spring or beginning of summer. And a few other big projects I still can't talk about. It turns out that my year of quiet also meant growing ideas when I had a bit of spare energy from growing a tiny human. 2014 will be a whole other kind of year.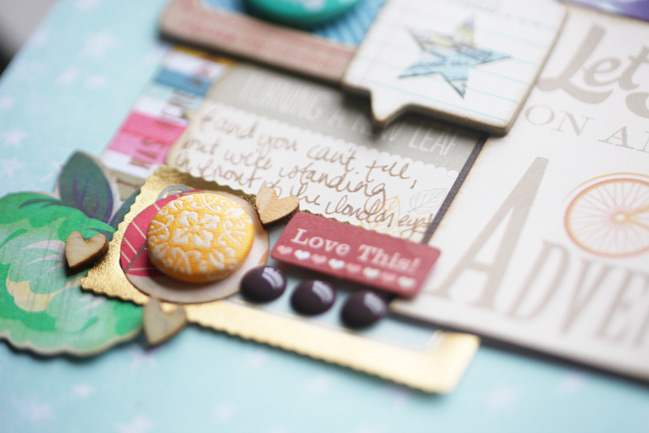 As for what you'll see here: I don't want to commit to a big master plan of what will happen in the whole year because something tells me that I need to be ready for the unpredictable and I need to embrace 'winging it' in terms to when I will work and when I will not! But you'll see a lot of scrapbooking here this month, at the very least. I think it will continue, though I may obviously need a little break at some point. Those guest contributors will continue in a bit of a different way: I've asked them to help me illustrate all this crazy writing I've been doing for so many months. You'll see their pages and mine together in articles on topics that give me the chance to offer some organised depth. You'll see layouts, step by step photo tutorials, and videos. I've also done some revamping to Best of Both Worlds to make it work better for everyone in 2014, including bringing in some help to show you more than one way you can use the supplies. (More on that here later today!) I've also blocked in two posts a week, in theory, to share some non-scrapbooking things too: one column from me and one from Alice, who will continue to keep my sanity and also share some crafting tutorials with you outside the realm of paper. Glitter Girl is back for 2014 too, though in a slightly different format. She still has a weekly video every Wednesday, and has a long list of things she is very excited to share with you in 2014. (Her first episode of 2014 is next Wednesday, the 8th of January.) Plus the first shimelle.com workshop of 2014 has been announced: Return to the Collection starts on the 20th of January, and you can sign up now at a bit of an early bird discount if you like.
I loved my year of welcoming quiet and it was exactly what was needed around here. And now I'm a bit ready to begin a year of embracing the new. I hope you'll stop by now and then throughout 2014 and be pleasantly surprised with what you find here too.
Thank you, as always, for all your support.

Read more about:
01 January 2014

Next post: Best of Both Worlds :: My Scrapbooking Product Picks for January 2014
Previous post: Return to the Collection :: A New Online Scrapbooking Class