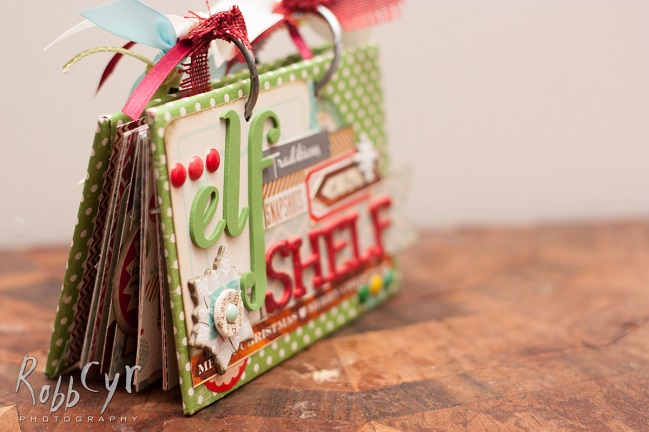 Hello everyone! I'm so thrilled to be here guest posting for Shimelle, who is such an amazing scrapper! Today I'll be sharing a tutorial for making a mini album from scratch using some leftover cardboard. I love using this technique because it saves money plus you can customize your mini album to any size that you want. There are a few low cost supplies you'll need up front but once you have them the possibilities are as endless as your creativity! I'll be sharing a quick and simple album that I used to document our adventures with the Elf on a Shelf last December.

Choose the size of your album cover and make a template out of scrap paper. You can choose any size you want, however for this project I wanted to make a small album and decided on 3 ¾ inch x 5 ¾ inch. Once you have your size determined and template cut you can trace this twice onto cardboard.
Cut out your album covers. When placing your template be careful to avoid any bent or warped areas on your cardboard.
This step is optional, but I highly recommend it! Apply a light coat of polyurethane to both sides of your cardboard covers. This ensures that the cardboard will stay stiff and not yield to bending over time.

Once your covers are dry you can adhere them to your patterned paper of choice. I cut my patterned paper approximately 1inch larger than the size of my cardboard cover. I also prefer YES! paste as my adhesive because I've found it gives the best seal between cardboard and paper.
Along each corner of the paper cut a diagonal line leading up to the cardboard. On the top and bottom of the album apply a small line of Gloo (or Glossy Accents) and adhere the top and bottom strips down, similar to wrapping a present.
Trim the triangular edges off the top and bottom strips of paper.

Fold in the tabs on the left and right hand sides of your patterned paper (again, just like wrapping a present).
Fold the left and right sides of the patterned paper in towards the cover and use Gloo (or Glossy Accents) to adhere them down to the cardboard. Cut a piece of coordinating patterned paper slightly smaller than the size of your cover and adhere to the inside piece of the cover using YES! Paste.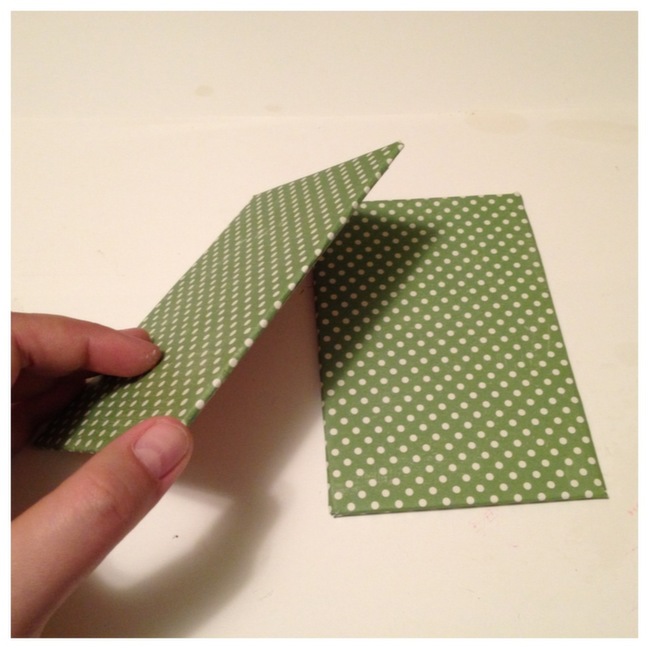 Now your covers are complete, and if you chose to use the polyurethane they are also very sturdy! Punch holes in both covers wherever you desire and thread some binder rings through. Since my album is going to be horizontal I decided to punch them towards the middle of the cover.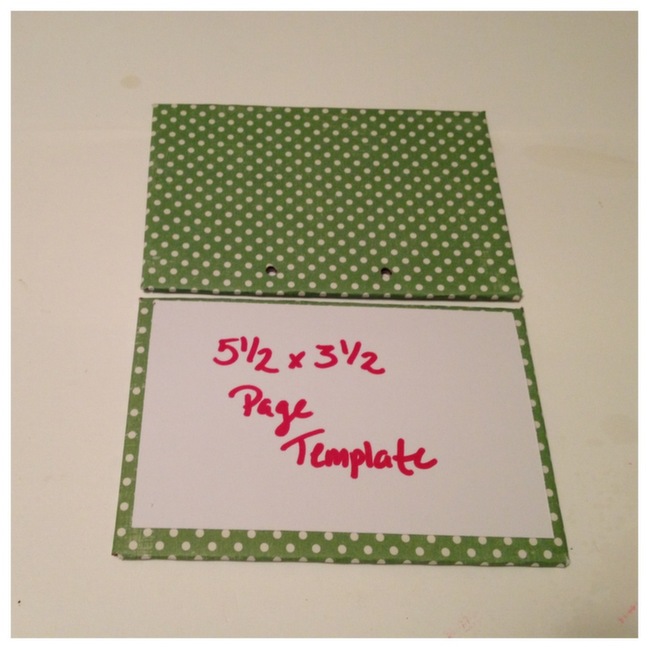 To choose your page size I also suggest using a page template from scrap paper. In this case I chose cutting the pages 1/4 inch smaller than the cover, so 5 ½ x 3 ½ inches. Overlay your page template onto your cover and trace where the cover holes are. Keep in mind here that you don't want your page template to be perfectly centered; you'll want the page holes to be punched closer to the edge of the covers since the pages are smaller. Construct however many pages you desire by gluing two pieces of patterned cardstock together for each page in the same size as your page template and add them in between the covers.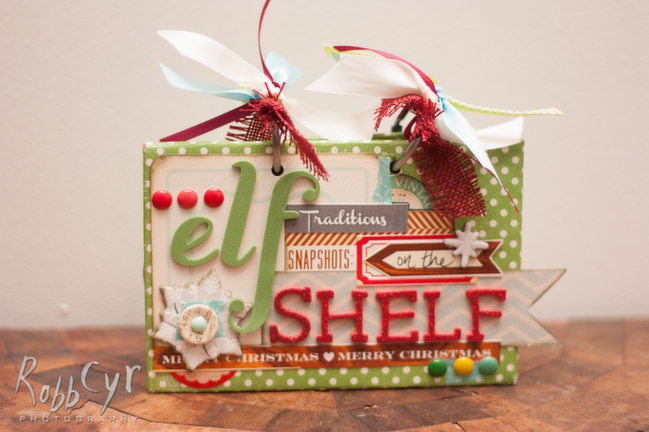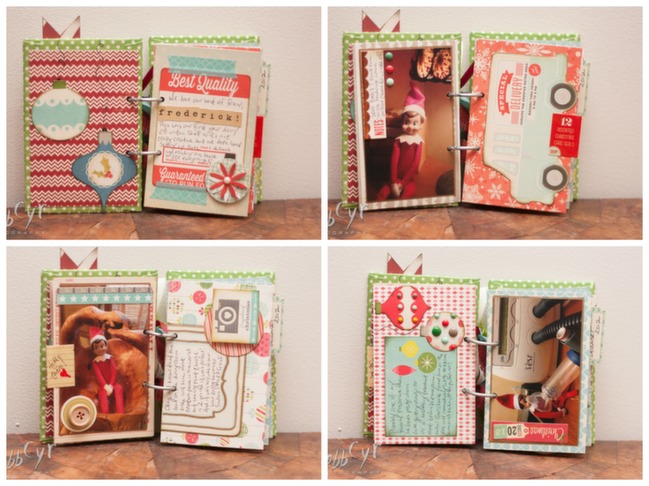 The base of your album is now complete and the last step is to embellish, add photos and decorate the cover (aka the fun stuff!). I kept my mini album pretty simple and even had some fun changing up the orientation of the photos from page to page. All of the embellishments and paper are from the 2011-2012 Noel Mignon December kits, I love how mini albums are such a great way to use up some of your stash!
If you need some more inspiration here are a few other mini album covers all made from cardboard.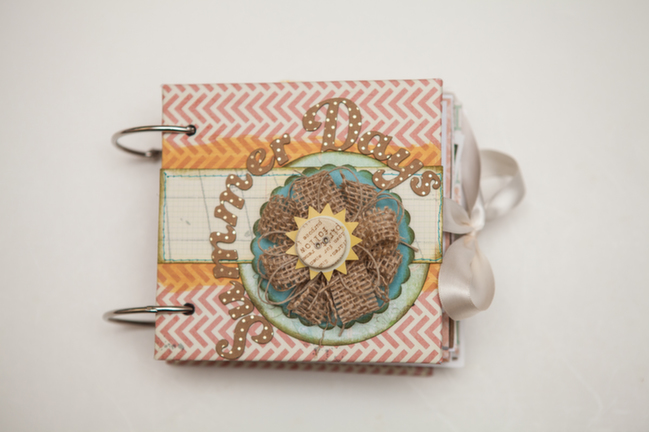 I've made so many albums using this cover technique, in all different sizes and orientations. I hope you'll give it a try; it's inexpensive, sturdy, and completely customizable to you!



Cassandra Cyr (aka Glue Meets Paper) lives in CT with her husband and 3 year old son, Charlie. Cassie currently works as a QC Analyst in a Microbiology lab when she's not obsessively paper crafting. She has been crafting for 6 years and been published over 70 times, including on the covers of Scrapbook Trends and

CARDS

, and she currently is part of the Design Team for Noel Mignon Kit Club. If you'd like to learn more you can find her blog at gluemeetspaper where she shares scrapbooking projects, cooking recipes, and posts about everyday life living with a toddler with Cystic Fibrosis.




Read more about:
26 November 2013

Next post: Five Ways to Use Stencil Masks by Natasja Verbeek
Previous post: Sign up now for Journal your Christmas 2013!