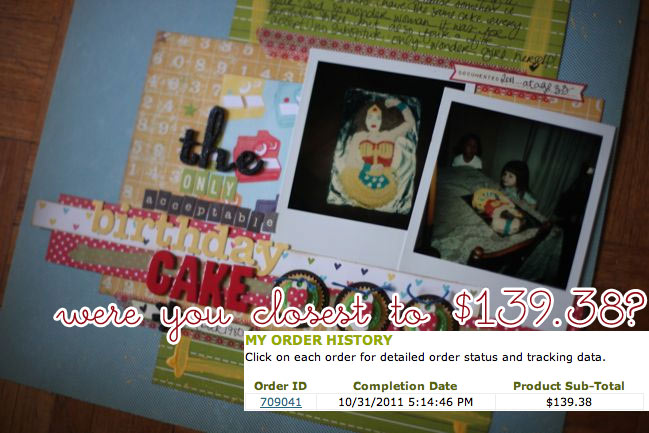 It's time to draw the Garden Girl Blog Hop to a close and post a winner! You had to guess how much I spent on my last order at Two Peas in a Bucket and I promised a $15 Two Peas gift certificate to the person who guessed the closest. And you were so close! First there was Ruth, who guessed $138.32. Then Kelly Morris guessed $140.35. But Gina M. pipped it with a guess of $138.99, just thirty-nine cents off my shopping total of (deep breath) $139.38!
What was in my order? Twenty-seven different sheets of stickers. Sixty-one 12×12 patterned papers. Four sets of Thickers. Two stamp sets. Two packs of chipboard shapes. And a handful of die-cuts, rhinestones and buttons. Brand-wise, I ordered a mix of American Crafts, Simple Stories, My Mind's Eye, Studio Calico and October Afternoon. Some of the items I've used in my travel album were on sale, so I went ahead and ordered them again since I still have plenty of pages to make for that ongoing project. I don't often order the same paper or sticker more than once, so that's quite a rare occasion. I placed my order after the close of business on the 31st of October. It left the Two Peas Warehouse on the 1st of November via USPS arrived at UK customs on the 6th. I've paid my customs bill this morning and it's scheduled for delivery tomorrow, the 10th. (Or I could go pick it up in person today, but my local depot isn't all that local so I just wait for it to be delivered the next day.)
A few of you have asked about customs charges, and yes I pay import tax (VAT) and occasionally duty on my orders. There are two things to keep in mind here: the current regulations for paying import tax on items sent to the UK from outside the EU: goods with a value over £15 is liable to import VAT (20%), anything with a value over £135 is also liable to a customs charge of £9 or more (it depends on the materials you're importing). But the second thing is we all know not every single parcel seems to get picked up for VAT, when you talk to a variety of people. Because I import large quantities for workshops and such, I pay VAT on everything I receive – my address is on file and it's something that goes into my taxes and so forth. But that's one of those weird things about being a full-time scrapbooker and if you are just ordering normal amounts of scrapbook supplies, you won't have that part of the equation. You may be asked to pay import tax and you may not. My advice is to figure it in, and if you don't get charged, then you can put that extra 20% back into your crafting budget. Sorry, I know that's really boring, but it's a question that comes up often from those here in the UK so there is my definitive answer!
To those who guessed I would spend in the thousands – egads, no! I wonder what one could buy for that much in one order? And how big of a craft room must one have to accommodate such grandeur? Amazing. This month's order is at the high end of normal for me, and I tend to place an order every month so I have the right supplies for assignments (we choose our own products from the Two Peas inventory rather than being told what to use, so every Garden Girl can stay true to her own style) and I did place one obscenely large order to arrive when we came back from our trip, but I promise it was under $500. Receiving that order was a joyous day indeed, with lots of collection packs and punches and stamps that I wouldn't ordinarily let myself buy. I'm much more a papers and stickers girl. But that one giant order was essentially four or so months of orders combined into one big box since I hadn't been around craft supplies for all that time and had a to-do list approximately seventeen miles long! I've never, ever come anywhere close to spending that much on any other scrapbooking order in the history of my life. Never ever. I think what's most important is sticking to a budget that works for you and buying things you love and use. My supplies are worth far more to me in my albums than on my shelf.
Thanks so much for following the hop and playing along with the guessing game! Gina, I'll be in touch with your gift certificate!
And I'll be back later today with a new sketch and video!
xlovesx

Read more about: two-peas-in-a-bucket
09 November 2011

Next post: 10 Things :: November 2011
Previous post: Journal Your Christmas 2011 :: Online Scrapbooking Class